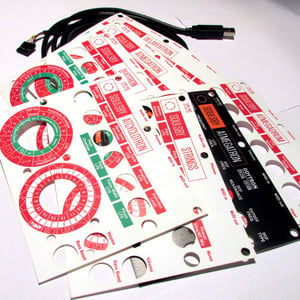 £

17.50
Overlays are made from laser cut card.
•Odytron (analogue modelling in 8-bit. Only needed for Pete Fowler Edition and original Atmegatron)
•Delayertron (8-bit tape delay effects synth)
•Atmegadrum (16 step, 16 part drum machine)
•Strings (4 voice string synth)
•Atcyclotron (wavetable cycling synth)
•Duotron (duophonic synth)
If you already own the original Accessories Pack, please choose "3 overlays option". This is just Strings, Atcyclotron & Duotron. No cable included.
Programmer cable:
Allows alternative software versions to be uploaded to the Atmegatron. These can be downloaded from the Soulsby Synths website.
This cable is only for use with the Atmegatron. It is NOT for use with the miniAtmegatron.
*** Price shown does not include VAT for customers within the EU. Customers outside the EU will be required to pay customs duty on delivery of the unit.***
If shipping to your country is not listed, please contact Soulsby Synthesizers using the link on the right.