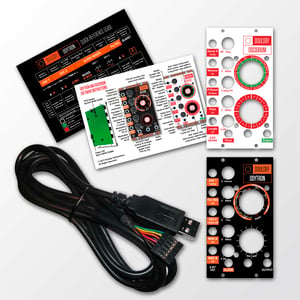 £

15.83
**** Please email [email protected] to preorder accessories pack ****
2 overlays made from high quality reverse laser printed vinyl:
Odytron (analogue modelling dual oscillator with filter, sync, PWM and 2 modulation inputs)
Oscidrum (8 part drum machine and 16 step sequencer with numerous tweakable parameters)
Quick reference / instruction card:
Contains quick ref for Odytron functions and an overview of inputs and outputs of Odytron and Oscidrum.
Programmer cable:
Allows alternative software versions to be uploaded to the Oscitron. These can be downloaded from the Soulsby Synths website.
*** Price shown does not include VAT for customers within the EU. Customers outside the EU will be required to pay customs duty on delivery of the unit.***
If shipping to your country is not listed, please contact Soulsby Synthesizers using the link on the right.