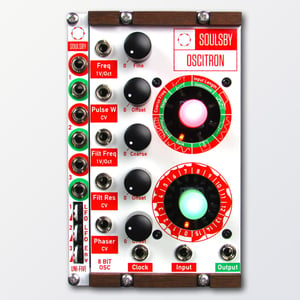 £

216.67
The Oscitron is an 8-bit wavetable module for Eurorack.
It features classic Atmegatron parameters such as biquad filter, pulse width, phaser and wavecrusher effects. New features include wavetable sampling and variable audio engine resolution.
The Uni-Five is a utility module that converts bipolar LFOs and 8V envelopes to unipolar 5V control voltages, suitable for the Oscitron inputs.
Oscitron comes with:
module
wooden end panels
power cable
M3 screws
M2.5 screws
28 page colour manual
Quick reference card
Uni-five comes with:
module
M3 screws
Quick reference card
*** Price shown does not include VAT for customers within the EU. Customers outside the EU will be required to pay customs duty on delivery of the unit.***
If shipping to your country is not listed, please contact Soulsby Synthesizers using the link on the right.